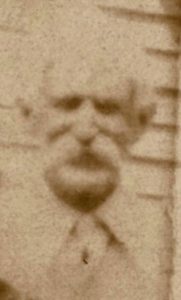 Farmer, preacher, and lover.
When Benjamin Franklin Riddle was born on February 12, 1855, in Guyandotte River, Logan, West Virginia (then Virginia), his father, Tobias, was 46 and his mother, Sophia Robertson, was 40. He married Araminta Elizabeth Robertson, a first cousin, and they had nine children together.
After her death, he then married Mary I "Molly" Southland Kelley on April 19, 1911, in Pearisburg, Virginia.
Benjamin was a sheep farmer and owned a farm in Trigg, VA in Giles County. Also, areas known as Poplar Hill near Speedwell, Va.
As remembered by his granddaughter, Elaine Riddle, he had beautiful white hair/beard and looked a lot like Col. Saunders (Kentucky Fried Chicken). Benjamin may also have done some preaching at Wesley Chapel church.
The farm is still there today, 1996, and the people who own the property refer to it as Little Egypt. I'm not sure of the reason but I have been told that a stream runs through the property.  I was told by Louise Johnson that he owned a whole mountain and the house still standing in 2000.  He was a travelling preacher by horse and was yet said to have been mean to horses.
1870 US Census Mercer Co. WV, East River Twp, sheet 514, Benjamin and Cleophas) living with H Simkins, wife Elizabeth, children Parthena 16, John L. 14, Henrietta 12, Thomas 8.
1880 US Census District 5, Page 28 – Benjamin was 26 years of age, lived in Walker Creek District in Gile County VA with wife Minta age 25 and Estille, 4 and William C, 2. Benjamin worked on a farm (not owned) and the was no date on how long they had been married. The place of birth was given as VA for everyone and it was not noted if they could read or write.
1900 US Census Walker Mag. Dist. Location 174-176 Dist 24 Sheet 10 – Benjamin was 48 years old and married to Aramita E. age 48, for 25 years. Benjamin's occupation was saw mill, laborer, and they rented a farm. Eight children were listed at home, William C., Mary S, Margaret E, Thos. R., Lucy C., John W. , Rufus H., Benj. T. There was a total of 11 children with 9 living.
1910 US Census – 11 children, 9 living Sheet 2B
It is said by some that Benjamin's son Rufus felt his mother's death was his father's fault. Two stories: He beat her resulting in a stroke or hit her over the head while she was milking a cow. Apparently sometime prior to Rufus' death he forgave his father and was said to have liked his step mother.  Yet, another story, told to me by my grandmother and his daughter-in-law, was that Rufus had left home young because of his dislike for his stepmother.
1920 US Census Walker Creek – Mountain Road, Dist 9/35 Sheet 2A
Benjamin F. Riddle is head of household, 64 years old with wife Mary I. who is 68 years old. Also listed is John W., 26 and wife Annie, 20. Benjamin is given the birth place of WV with parents birth place of VA. Annie is from WV and her parents too.
1930 US Census Walker Creek, Dwelling Number 99, with Mollie as his spouse and the only child in the household was Edward.
By the 1940 census, Benjamin lived in Walker Creek but as a widower and with his son, Benjamin, as head of household.  It gives his level of education as 4th grade.  But it also gave his son Benjamin as the same level of educati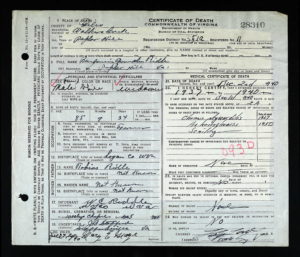 on so I wonder if it is correct.
Benjamin's death certificate, also in 1940, said that he had dementia so it is likely the same property and household but his son took over as the head of household.  He died on December 2, 1940, in Giles, Virginia, at the age of 85.