My Granny!  When Betty Belle Keatley was born on November 20, 1900, in Pride, Mercer, West Virginia, she was  the first child to Henry Keatley and Lula Williams. When I was a child, Granny spent many summers with us. Uncle Jerry would help my Dad and earn college money and Granny would do house work because she was the kind of person that had to be busy. I tagged along and envisioned that I was helping her. Granny told so many stories about herself as a child and I loved hearing them. I hope to recreate some of her stories and will try to tell them as accurately as possible.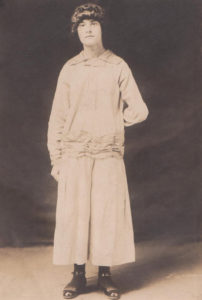 Granny was born Betty Belle Keatley and her father was hoping for a son, not a daughter. Henry was a farmer, blacksmith and storekeeper in Pride, West Virginia, now known as Speedway. Henry loved his daughter and she spent a lot of time with her father around the shop. Her father was very mischievous and would teach Betty songs to sing. These songs (she sang some to me but I can remember them). The contexts of the songs were to make fun of people who came into the shop. Henry would make up songs about someone who was fat or bald or owed money and teach it to Betty. When they came into the shop, Betty would sing it. Betty was always be reprimanded by her mother for singing these nasty songs. Betty loved her father and had fun with the lyrics.
When Betty was a child, there was a trunk in her home that contained clothing belonging to her grandmother. Betty was told that her paternal grandmother, was adopted and had been Native American. As Morning Star's mother was dying she told the hunters who found her where to find a trunk. The trunk contained Native American ceremonial clothing that should be given to her daughter when she was greown. The trunk contained a delicately beaded dress and moccasins among other things. Unfortunately, there was a fire at the home place in Speedway (I believe Betty said she was about 20 years old) and the trunk with its contents was destroyed.
Betty was of dark completion with dark hair and eyes, but she had cousins that were fair skinned. Fair skin was the mark of beauty in those days and the women all worn sun bonnets to protect their skin from tanning. Betty hated wearing the bonnets and would get as brown as a berry. She still was just a little jealous of a cousin who was fair skinned. One day she got her cousin best Sunday shoes and tied knots between each eyelet (in those days they wore lace up boots). When her cousin got ready to put on her shoes, it took so long to untie all the knots she didn't get to go to church. Boy was she mad! And she figured out that the prankster was Betty.
Each time Betty's mother had another child, she was sent from the main house to spend time with a black man who was a friend and servant who had a small house next to the main house. They called him Black Jack but his real name was Alfred Moore (according to the US Census 1900). Black Jack was good to Betty and she enjoyed spending time with him because he made her feel special. When Black Jack died, he was buried in the family cemetery. The grave was robbed not long after he was buried. Henry was enraged. He loved Black Jack like a brother. He tried and tried to find out who had robbed the grave but could not find anything. Then one day many months later, Henry was in the dentist office and in the corner of the room was a skeleton. This was somewhat common for doctors or dentist in those times. As Henry studies the skeleton, he observed the dental work. Henry recognized Black Jack's denture work and went crazy. The dentist swore he didn't know it was Black Jack but did tell Henry who he paid for the skeleton. The remains were returned to Black Jack's grave but I don't know where he was buried. I don't know what happened to the men who dug him up. Per the 1900 census, Black Jack was Alfred Moore born about 1868 and from North Carolina.
I remember Granny telling me that the Klu Klux Klan burnt a cross in her families yard when she was a child. I wish I had asked more at the time but I don't know why they burnt the cross. I remember her telling me how scared she was at seeing that burning cross. Now I wonder if it had something to do with Black Jack. Considering the times, it was probably Jack.
Betty was the oldest of eight children. Betty's sister Gladys came down with polio. The nearest treatment center for polio was in Huntington, West Virginia. Gladys needed someone to go with her to Huntington and her parents had business and younger children at home that needed care and attention. It was decided that Betty was 12 years old and capable of escorting and caring for her sister Gladys. Henry took Betty and Gladys to Huntington where Gladys was an outpatient receiving treatment for her polio. Henry thought he was leaving his daughters in the hands of good Christian people who ran a boarding house. Betty took care of her sister and was homesick and lonely. These good people brought them scare meals and offered to assist Betty in no other way. Then the flood came. I guess it must have been 1912. The streets were filled with water. Betty and Gladys were on the top floor of a large wood frame building. (I think the third floor). Gladys was fighting fever and Betty had nothing to give her. No food no water and the good Christian people offered no help and no support. Betty could hear them in the next room praying. They were rollers and prayed loudly and spoke in tongues. Betty was so angry that they spent all their time praying didn't try to help her with Gladys. Betty and Gladys spent their last night in the house with Gladys in fever, listening to the water slap again the steps just outside the door and loud praying in the next room. When daylight broke a boat came up to the window with some men offering to take people to higher ground. The Christians said they would be their faith in God, but 12 year old Betty forced her way through them to the window and said helps those who helps themselves and me and my sister want to go with you! The men helped them in the boat when they were taken to a shelter high on a hill. Betty said everything was floating in that water. Trash, furniture, pieces of houses, chicken, dead bloated animals, and even people. The stench was horrible. As soon as possible, their father was notified where to come for them. Henry came and took them home. He promised Betty she would never have to go there alone with Gladys again. Henry was angry when he heard how poorly they had been treated by the Christians at the boarding house because he had paid them very well to care for his daughters. Granny always hated water and would not swim or even go in a boat.
Betty liked to run and play in the woods without shoes and protection from the sun. As she grew older, her behavior was unacceptable for a girl. Betty was given the proper attire of the time for young ladies. One of those garments was a corset. Betty said the corset hurt and she was not going to wear it. Of course her mother had paid a lot of money for it and made her wear it. Betty found solution to the situation. She went way out in the woods, took the corset off and through it high in the tree. When her mother asked where the corset was Betty said she did not know; she could not find it. Her mother brought three corsets before she gave up on Betty wearing one.
As a young woman Betty went to the barn dances. It may sound vain but she said she was the prettiest girl there and all the boys wanted to dance with her. She would dance with them all and make the other girls jealous.
Betty was going to go to Normal School which is in those days was like going to college. She was going to become a teacher. A young man named Rufus Riddle came to work as a horse breaker at her father's farm. He was taken by Betty and she with him. Betty Belle Keatley married Rufus Hoge Riddle in Bristol, Tennessee, on October 17, 1917, when she was 16 years old.   Her father was disappointed because she married so young but gave his blessing with the condition that Rufus better be good to her. If he was not, he would have Henry to answer to!  Henry would not be around to enforce that promise/threat because he died about a year later.
Shortly after they married Rufus went off to WWI. While he was away, their first child was born on September 29,1918. A daughter, my mother and she was named Elaine Beatrice. In October one month following Elaine's birth, Betty's father Henry died. According to the death certificate #6424 he died of "organic heart disease-irregular heart …"
Granny did tell me that she had premonitions about his death and other deaths. Granny always had dreams before someone she loved died. I was a dream like someone faceless told her to prepare because there was going to be a death close to her. Granny said how she hated it when she had those dreams. I remember asking why she thought she had those dreams and she responded that they were to prepare her. She said she would rather not be prepared because of the agony caused by knowing in advance that someone was going to die. Sometimes there was an illness and she could easily guess or know who was going to die but other times it was an accident and she worried about who it was going to be.
Granny told me other dream stories about traveling to other places in her dreams. Rufus was rather a roust about. He liked to drink and gamble. One night while he was out Granny had a dream that she was in the back room of the local store. She watched while Rufus and others were playing poker. A argument erupted and a fight broke out. During the fight, Rufus shirt sleeve was torn and a kerosene lantern got knocked over. The kerosene flamed and the men stopped fighting the put out the fire. When Rufus got home, Betty told him exactly how his shirt had gotten torn and that she knew he had almost set the store on fire. Rufus could not believe she described exactly how everything had happened. He was convinced someone who had been there had come to the house before he had arrived home and told her about it.
Rufus was a coal miner who loved his wife and children. Sometimes he spent his money carelessly. He would buy gifts at the company store and Betty would have to make him take them back. He was also a member of the Klu Klux Klan as Betty found out when she accidentally found his sheet and hood on the back porch under some things. She removed it and burnt it to ashes. A few days later Betty heard Rufus rooting around through the things on the back porch. Then he came in the house and asked her if she had seen anyone messing around the back porch. Betty asked why. Rufus answered no reason. And that was the end of that. Betty was 31 years old when shortly before Christmas Rufus was in a slate fall at the coal mines. He remained alive through Christmas and died shortly after with complications of pneumonia. They had six children together, Elaine, Marie, June, JR, Jimmy and Naomi.
According to her daughters, Elaine and Marie, Betty could be "mean". Betty had asked Rufus to get rid of his mustache but he wouldn't. So while Rufus was sleeping and with the children watching, Betty got large wooden kitchen matches and proceeded to set Rufus' mustache on fire. One side of the mustache burnt so he had to shave the rest.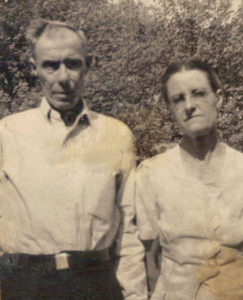 Betty married again to Mac Blankenship and had two more children, Sandra and Jerry before Mac died of cancer. I asked her once why she did not get married again and she said "I buried two husbands and I do not want to bury another".
Granny liked to tell ghost stories and told me many. One of them that I remember is about a crying sound Granny would hear coming from the field next to their house in Pride. Granny would hear the crying in early evening as dusk fell. Several nights she hear crying and would go look for the source to no avail. Then one night in a distance she saw a small child in a long white gown a distance away. Thinking that the child must be lost she followed and attempted catch up to the child. The child moved quickly and when she thought she was getting close the child was gone. When telling her story to other, she was told that the spot where the child had disappeared on her had been the location of an early settler cabin. In the cabin lived a man, woman and one child. The man left to travel for about three days for salt. Shortly after his departure unfriendly Indians came to the house. The woman hide the child in a hiding space built into the stone wall by the chimney. The woman was killed and the child was not found, however the three day trip was extend to five and when the husband returned home he found both his wife and child dead.
So these are among the many stories that my grandmother, Betty Keatley Riddle Blankenship, told to me. I loved hearing her stories. I remember asking her, "Tell me a story, please – tell me a story about when you were a girl, please". I loved her and miss her so much.
She died on January 2, 1987, from a heart attack in Princeton, West Virginia, at the age of 86, and was buried in Athens Cemetery, Mercer County, West Virginia.