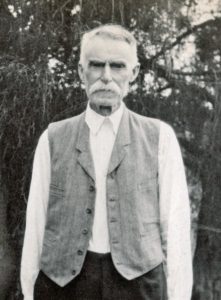 When John Andrew Francis was born on January 19, 1846, in Fauquier, Virginia, his father, Reuben, was 34 and his mother, Jane Cockrell, was 32.  John was the third child and second son.  The family moved to Lewis County, West Virginia sometime before 1850 per the US census.  According to John's obituary, he was two years old so they likely moved in 1848 but no reason was given for relocating.
He married Mary Jane Radabaugh on March 7,
1878.  They had eight children in 19 years.  and were in order of birth:  Owen Thomas, Willie Andrew, Edgar Cleveland, Zona Alice, Virgie May, Mintie Gay, John Franklin, and Etta Bly.
John remained in Lewis county, West Virginia and it was interesting that according to his father Reuben's will, John was his heir of the real estate and most of the personal property with the condition that he care for his mother.  His brother was not mentioned in the will even though he was older and still alive and lived locally.  Something must have happened there!
The property was located by the water on Big Skin Creek.  More research is needed to find the plat of the actual property.
He died on August 9, 1924, of Bright's Disease, at the age of 78 and is buried in Vandalia Cemetery, Lewis County, West Virginia.
FRANCIS, JOHN ANDREW Died August 9, age 78 years, 7 months and 10 days. Born January 19, 1846 in Fauquier county, Va., son of Reuben Francis. Moved to West Virginia when age 2. Married Jane Radabaugh, March 7, 1877. Had eight children, four boys and four girls. One named Etta lives at home. Burial at Vandalia cemetery. (Weston Ind. Wed. 20 Aug. 1924)