My Daddy!  Garland Clinton Francis
Garland was the first child of Willie Andrew Francis and Reka Brandt Lance born on September 12, 1910, at Roanoke, Lewis County, West Virginia.  Garland was raised in the southwest area of Lewis County in an area called Collin's Settlement.
  Garland was soon joined by a sister Juanita on the 28th of December 1911.  Garland was a healthy little guy who seemed to always be on the go.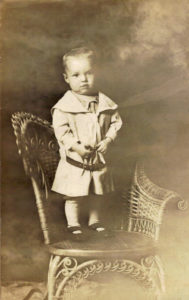 He almost always looked happy in childhood photos and was playful and kind to other children.  Clearly he was born an extrovert.  In the 1920's census the family lived on Hand Fork Road in Collin's Settlement and the house in the photo above was where he lived as a child.
Based on reading old postcards from his mother's collection, he also spent a lot of time with his maternal grandmother, Dora, and his aunt Cora Marie, Reka's older sister by a couple of years.  That explains why he loved his Aunt Marie so very much in his later years.   
His maternal grandparents lived in the adjacent county of Upshur, West Virginia and were farmers.  Garland spent a lot of time with them and, no doubt, helped with the farming.  While there was certainly hard work involved, he seemed to have been very loved.  Garland's parents were operating a small supply store and embalming services in Adrian, Upshur, West Virginia.  That would seem to explain his parents needing days free from child care.  However, Garland was likely a little spoiled but only because he was so loved.
Very little was said about how well Garland did academically.  Certainly his parents were literate but academic achievements were not a focus.  Acquiring a trade, means of support and farming were the focus of the area and families.  
Garland was a teen in the roaring 20's and clearly behaved in a more liberal way then his parents.  Still a farmer, Garland told his sister-in-law June about having sex in a cow pasture and rolling into a cow pattie.  Perhaps I should leave that story out but it seems that all involved are deceased it lends to the story of his personality.   I never knew him to be disrespectful to women but he certainly did love them.  Based on the personality of his mother and maternal grandmother, they were strong women.  I don't believe he ever forced his attentions on a woman.  Not only did he enjoy women but they seemed to enjoy him in return.
Garland didn't finish high school and it was a source of embarrassment for him.  It wasn't uncommon in those times but clearly he had expected more of himself. So taking into consideration the liberation of the roaring 20's, Garland had a daughter.  She was illegitimate and we don't know for sure that he knew about her.  
Margaret Mary was born August 11, 1929 at St Joseph's Rectory at Buckhannon, Upshur, West Virginia.  Her mother was either Maria Johns or Maria Jones.  Marge and I discussed at length whether or not Garland knew of her birth.  I believe he did because the the similarity of our names.  Clearly the mother was Catholic since Marge was born in a Catholic hospital.  Garland was raised as a Methodist.  In the 1920s, it was almost as unlikely for religions to intermarry as it was for racial differences to marry.  Since marriage was out of the question, I believe he did what any boy was supposed to do, and that was to leave town.  It was discreet because even his sister who was less than two years younger did not know about Margaret Mary's birth.
Garland did show up in the 1930 census with his parents in Collin's Settlement but based on his grandmother's diary below he was in Elk Ridge, West Virginia by 1932.  The 'Depression' was hard on everyone.  My dad would express anger that his own father chewed tobacco during that time.  He commented that he had to have his 'chaw' before food.  He loved his dad but this made him angry.  The Depression is another explanation for not finishing high school.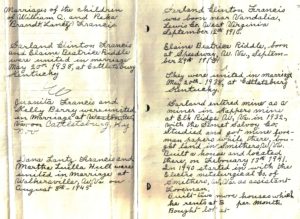 From the diary of Dora Armstrong Lance (Garland's maternal grandmother):
"Garland entered mine as a miner in Kappers mine at Elk Ridge WV in 1932, with Semet Salvoy Company. Studied and got mine foreman papers while there, bought land in Smithers, West Virginia. Built a house and located there on February 13, 1941. In 1940 started in with the Electrs Metalurgical Co. of Smithers West Virginia as Assistant Foreman. Built two more houses which he rents."
My father also told me that he ran moonshine over Gauley Mountain (in Fayette County, West Virginia) during the prohibition and that was how he got the money to buy the land in Smithers.  He drove in the dark with no head lights at 60 mph – don't forget what that road would have been like in that 1930's.   The land in Smithers had three little clapboard coal company houses and the railroad was within 'spitting distance' of the back doors.  Not exactly prime property but more that most.
My dad was in a car accident around 1938.  I don't know how the accident happened but he never hinted that he was running 'shine'.  The injuries were serious enough that he was admitted to he Montgomery General Hospital where he met Elaine Beatrice Riddle, a nursing school student.  Probably because he was eight years older and far more experienced than this sweet 18-year old girl, he married her on the 19th of May 1938 in Clay County, West Virginia.  Their son Garland Ray Francis was born on February 13, 1939.  Mom always told me they were married April 19th.  They made their home in Smithers, Fayette County, West Virginia
By now you have figured out that Garland was a coal miner.  I hung out with my dad a lot when I was a child.  My mother probably thought it would keep the ladies away.  When we would visit people in Smithers, West Virginia, people would call my dad, Butch.  I was always puzzled when they called him Butch.  Then one day I asked my mom why they called him Butch and she said it was because he worked part time in a butcher shop cutting meat.  No one can say Garland wasn't motivated.
While his wife worked as a nurse, Garland and Elaine planned to build a new
home on property he purchased in a small town, Charlton Heights, that was east of Smithers on Route 60.  Shortly after they moved into the new home in the late 1940s, I was born at home delivered by a doctor.  Doctor's don't come to peoples' homes anymore!  It was a lovely block home.  Garland built a lot of it himself.  He could do anything from masonry, plumbing, electrical – in the mines he was a blasting expert – "fire in the hole"!
Garland worked in the mines for Kimberly Mine, Carbondale Mine, and Union Carbide, Alloy Mine.  I remember going to the Union Carbine Alley plant in Smithers, West Virginia, with my dad when he got a hearing test that was required for his employment.
Garland didn't sit still.  Around 1954, he acquired a Dairy Queen franchise.  Again, building much of it with his own hands, it opened in 1955.  Elaine had left nursing and stayed home about five years but she now had the job of managing the Dairy Queen.   By 1958, Garland had added an apartments on top of the Dairy Queen and the family moved in it.  He added a 'sit down' restaurant and by 1960 there was the Cliff View Hotel behind the Dairy Queen.  The hotel idea didn't last long – just too much housekeeping and he converted the rooms into four apartments.  Now don't forget, through all this, Garland was working in the coal mines too.  He would work a day shift one week, evening shift the next week, and then the midnight shift – after that back to the day shift.
Soon Garland opened a laundromat in Charlton Heights.  It was first in the area and was very busy most of the time.  All shiny new washers and dryers.  He opened up two more laundromats but that only lasted a couple of years because they were too far away to take care of them.  Garland was also getting older and in his 50's by now and mining was taking a physical toll on his health.  His attraction to other women was taking a toll on his marriage.  By now, their son, had married and they were grandparents in 1960.  A transition was coming.
Coal companies love to get out of pensions.  When that 20 year employment starts approaching, they like to look for ways to terminate employment for non-union miners.  Garland was a Foreman so he was considered 'management'.  One night on midnight shift, the outgoing inspector didn't notice a weak timber.  Garland spotted it on his incoming inspection but it was too late for one man.  One man died in a slate fall due to that weak timber.  Garland was less than one year away from his 'twenty' so he got the boot.  He fought it but to keep his job, Garland had to take a position in Pennsylvania.  Union Carbine didn't think he would take it but he did.  It was 1965 and we moved to Butler County, Pennsylvania.  The distance helped the marriage and once again, Garland couldn't sit still so he decided on an easier, but not necessarily more financial beneficial, challenge of a franchise with a cosmetic company called Fashion Two-Twenty.  Really, I think he was trying to come up with a way to put his wife and daughter to work.  In the end, it wasn't successful.
More winds of change bringing bad news.  Garland's father died in 1968 and he had to make arrangements for his mother who was failing.  He brought his mother to live with him but the lose of her husband triggered dementia and the change of location only made it worse.  Garland did arrange for nursing home care but not without visiting, checking and finding a place that would give his mother good and loving care.
More bad news came in 1970 when his son, Garland Ray Francis died in a motorcycle accident.  It was too much.  Garland and Elaine moved into the farm house that had been occupied by his parents at Roanoke, Lewis County, West Virginia.  Back to his roots on a farm near where he had been born.  Near his brother and sister and cousins.  He settled there in his retirement years, running cattle, and refurbishing coal mining equipment.  He even opened a small productive mine on the farm for about three or four years he had a couple of guys working with him.  He knew coal and loved mining.
Obituary: Garland Clinton Francis, 69, of Roanoke, formerly of Charlton Heights, died Wednesday Apr. 23, 1980 at a truck stop near Ansted of an apparent heart attack.
Born in Lewis County, September 12 1910, he was a son of the late William and Reka Lance Francis.
Mr. Francis was a retired mine foreman for Union Carbide mines at Mammoth.
He was Owner of the Charlton Heights Dairy Queen and a member of the Charlton Heights United Methodist Church and the Gauley Bridge Lodge 64, Ancient Free and Accepted Masons.
Survivors include his wife, Elaine Riddle Francis; a daughter, Mary of Fairfax, Va.; a brother, Dana Francis, and a sister, Mrs. Juanita Berry, both of Weston; three grandchildren and one great-grand-child.
Services will be Sunday at 3 p.m. in the Floyd Funeral Home chapel in Weston. Buriel will be in Heavner Cemetery in Buckhannon with Masonic graveside rites.