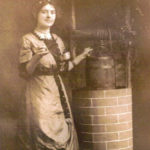 Grandma!  When Reka Brandt Lance was born on April 4, 1888, in Adrian, Upshur, West Virginia, her father, William H. Washington Lance, was 32, and her mother, Medora "Dora", was 29.  Reka was the forth daughter of what would be a total of five girls.
In 1900, Reka was a 12 year old living with her parents with the occupation of "At School" in Meade District, Upshur County, West Virginia. By 1910 She was married and living in Skin Creek, Lewis County, West Virginia.
She married Willie Andrew Francis on September 8, 1909. They had three children in 12 years.
I never heard any childhood stories from her but she left a plethora of post cards that tell a story of their own.  Clearly, Reka loved hats and worked at a millinery store in Buckhannon, West Virginia for a while.  Willie and Reka may have sold hats in the Abbott store too – I don't know.  Reka had tons of friends and exchanged lots of post cards.  She traveled a lot locally via train.  It was surprising how much young ladies traveled to local events by train in those days.  Reka spent a lot of time at church activities too.  I do remember her playing hymns on her piano.  It must have been an exciting and hectic time when the all the girls were still at home.  The sisters remained close and exchanged well written post cards indicating they were smart and well educated women.
As an elder woman, she was sweet and gentle.  Her final years were sad as she declined swiftly into dementia after her husband died.  On April 19, 1971, in Elkins, West Virginia, she died at the age of 83, and was buried along side her husband in Heavner Cemetery at Buckhannon, West Virginia.