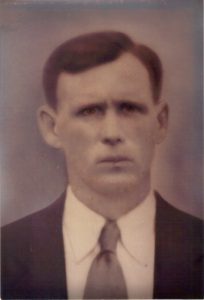 This grandpa died too young in a coal mining accident.
When Rufus Hoge Riddle was born on December 6, 1894, Walkers Creek, in Giles County, Virginia.  His father, Benjamin, was 39 and his mother, Araminta, was 40.  Rufus was the 8th child born to them.
Rufus left home at about the age of 16 or 17 years due to a difficulty getting along with his stepmother.  Or was it after the death of his mother as he would have been about 16 when she died?  Rufus met my grandmother, Betty Keatley, because he was hired to break horses on the farm of her father Henry Keatley.
Per his draft card, Rufus was a had brown hair but family said had redish tones; his height was short and build slight.  His daughter, Elaine, said he was Black Dutch ancestry – whatever that means.  I have heard that Black Dutch as everything from Melungeon, Native American mix, Africian mix, or just the dark haired Dutch. He probably did have a Native American distant grandmother down his Simpkins line.  Likely he was of  mostly western European descent.
Rufus and Betty 'ran off' and were married on 17 October 1917 in Bristol, Sullivan, Tennessee.  Betty was only 16 years of age and needed the permission of her parents to wed in West Virginia.  As it was told, Betty's father Henry, was upset but accepted the union with the promise that Rufus would feel his rath if he didn't treat Betty well.
And so the US joined in World War I. According to his draft card, Rufus was working as a cook for the Bluestone Land and Lumber Company before he was drafted and sent to France.
Rufus departed on the 22 August 1918 from Norfolk, Virginia on the Princess Matoika for France to serve in World War I.  He arrived in France on September 3, 1918.  His draft card was #1992860 and his service number was #3179862.  He served with the 56th Provisional Company August Auto Replacement Draft (White).  I remember my mother saying that he disliked the Red Cross because they would take supplies sent from home to American soldiers and distribute  them to the French soldiers. I also remember I do remember hearing about the worries of the flu epidemic and the mustard gas.  Rufus and Betty's first child, Elaine, was born September 29, 1918, just a little more than a month after he 'shipped out'.  Once in France he served with Company D 360th Inf with the rank of Private.  His return departure date was 27 May 1919 from St Nazaire, France and he arrived in Boston on 7 Jun 1919.
Rufus went to work in the Gulf Smokeless Coal Company mines at Waco, Wyoming County, West Virginia where he and Betty had six children before he was in a slate fall at the mine. Rufus liked to drink and play poker and would make amends with Betty by buying her gifts which she frequently returned to the company store. Rufus was generous with his children and a good father.  They had six children in 11 years.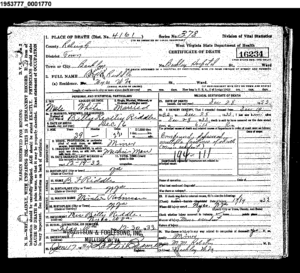 Before Christmas in 1933, news came to the family that Rufus had been injured in a mining accident.  He survived the injuries but remained in a coma and died a few days after with pneumonia.  Per Sam Rhodes, the older folks had told him that Rufus head was cut off.  Kids were swinging on a rope tire at night and hit him. Obviously this was a way to get kids to behave and not swing on the rope tire.
He died on December 28, 1933, in Beckley, Raleigh County, West Virginia, at the age of 39, and was buried at Wesley Chapel Cemetery, in Trigg, Giles, Virginia.
Betty was left with six children to care for in the middle of an economic depression.