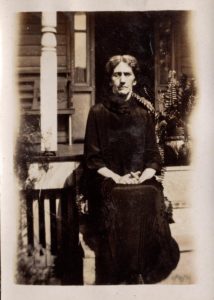 When Mary Jane Radabaugh was born on January 15, 1860, in Upshur, West Virginia, her father, Abram, was 31, and her mother, Mary Ann House, was 31.
She married John Andrew Francis on March 7, 1878. They had eight children in 19 years and were in order of birth:  Owen Thomas, Willie Andrew, Edgar Cleveland, Zona Alice, Virgie May, Mintie Gay, John Franklin, and Etta Bly.
She died on November 8, 1927, in Weston, West Virginia, at the age of 67.
FRANCIS, MARY J. widow of late John Francis died November 8 at home of a daughter, Mrs. Etta Watson of East Weston, at age 67 years, 10 months and 20 days. Surviving sons and daughters, O. T. Francis, Vandalia; William Francis, Roanoke; Edgar and John Francis of Vandalia; Mrs. Etta Watson, Weston; Mrs. Sona Casto of French Creek; Mrs. Minta Casto of Roanoke; Mrs. Richard Roush, Weston. Services at Vandalia M. P. Church, interment Vandalia cemetery. (Weston Ind. Wed. 16 Nov. 1927)